How the Lean Canvas Promotes the Sharing of Innovation Ideas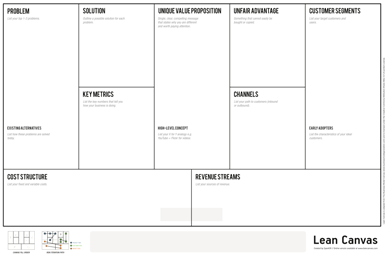 I had the great opportunity to see how different organisations approach short-scale corporate innovation, at the NWG Festival of Innovation (#NWGInnovationFestival) earlier this month.
The Festival was set-up to resemble a summer festival, complete with the action happening in temporary tents around the racecourse. There were several different design sprints each in their own tent section, each tackling a different theme.
The Challenge
Walking through the different sprint rooms, it took time to understand what problem was being solved, how the team were approaching the solution and what was being designed. This took longer for some of the sprints than for others.
In one particular group, understanding what the teams were doing was an amazingly easy and quick task. Stepping back, I noticed that each of the teams in that sprint room were using the same tool and they were using it the same way (which is a good sign of consistent multi-group facilitation).
The Lean Canvas
The tool they were using is a simple one, based on the Business Model Canvas. Ash Maurya created the Lean Canvas which has some of the same elements but some different elements for use when creating new propositions, by focussing on the customer and their problem.
Having used the canvas in action before, it was an eye-opener to see how easy it was to understand from the outside, i.e. from someone that hadn't been part of that sprint. That's part of the value of any of the canvases and one of the primary reasons I use them with my clients. However, it was a pleasant experience to realise how easy it was to understand when I was on the other side of the fence.
Conclusion
No matter what changes you're promoting within your organisation or sharing with others, consider the most appropriate tool for the job. The value of the tool you choose is not just how it promotes the progress of your team's work but also how it promotes the sharing of that progress and the associated concepts.