Partnership Map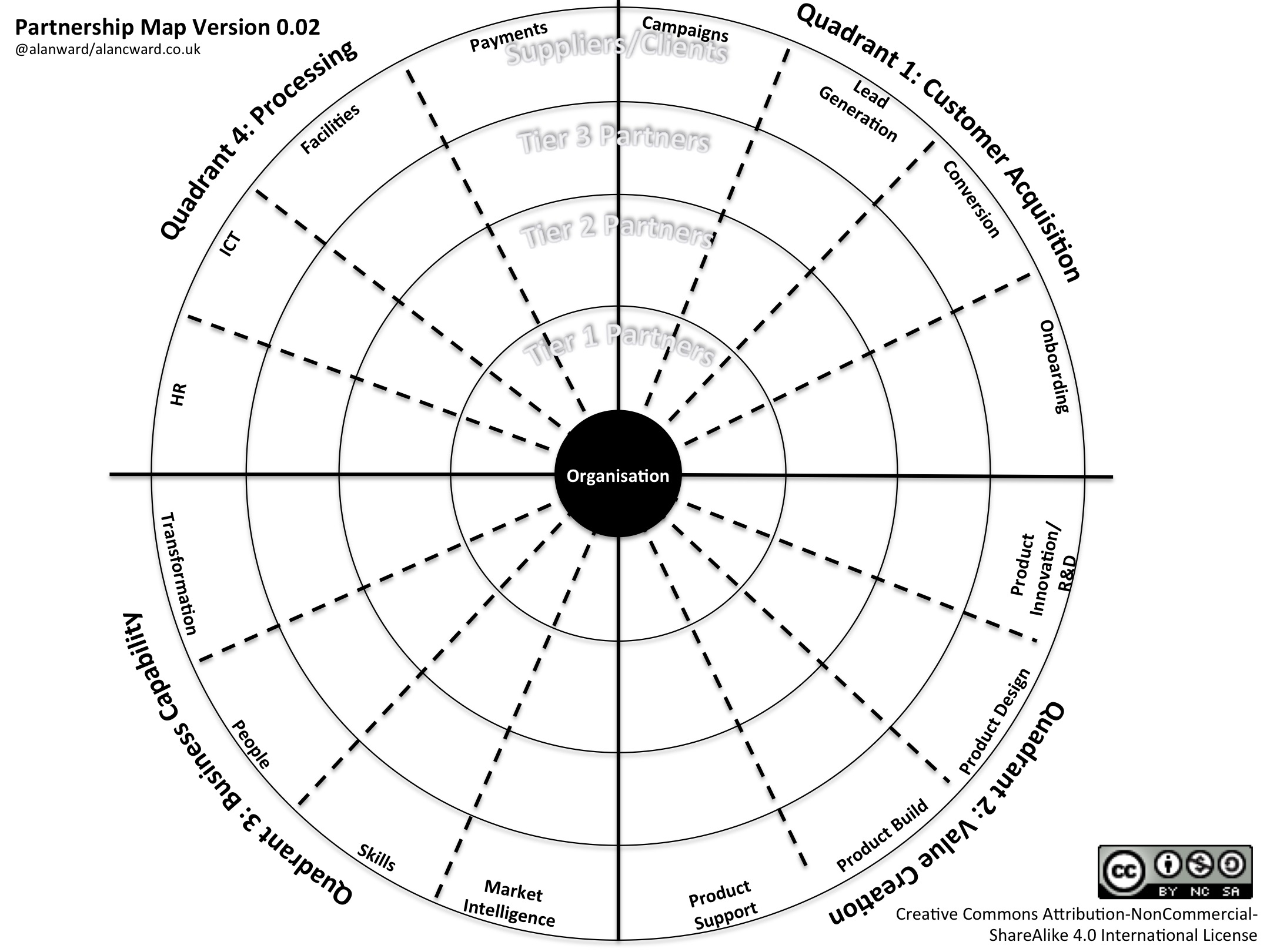 I've developed a Partnership Map, designed to help us think about which companies we partner with and why.
With my clients, I've often found workshop attendees confused (at least initially) by the term partnership. If you use other well-known tools such as the Business Model Canvas, maybe you've encountered similar issues.
We all use the term partnership, but rarely question what we actually mean by it. I usually revert to asking what the partnership entails. If it's one company paying another for services, is that really partnership?
Components
There are two parts to the target
The Map itself: designed so you can print it large and place your partnering companies on the map
A table of the definition of the tiers. I'll admit this is a very rough draft, but I thought it better to get it out in the world and improve with collaboration, rather than it just being the product of one person.
How to use it
Work through each of your partnerships and place them according to their sector and tier.
Once all partnerships are on the map, step back to look at them
Evaluate whether that partnership should exist, moved tiers or become a supplier-client relationship. Think of partnerships moving from outside to inside or vice versa, or partnerships being consolidated across sectors.
If a particular partnership is giving cause for concern, then consider using the Partnership Canvas for more in-depth analysis.
Status
This is a first draft; it's my first attempt at putting down my thoughts into a picture.
There are a few tasks before I'd consider it a first release:
The alignment of the words to the circle isn't spot-on. I'll wait to see if the quadrants and sectors change first, before making it neater.
The definitions of the tiers and the actions need more thought
Validate the quadrants – I'm not comfortable with the name Business Capability; it's a working title
Validate the sectors – Do these need to change, add sectors, merge sectors?
I'm happy to collaborate on it, so get in touch at @alanward and let's talk.
The Content