The Rockstar Approach to Visual Management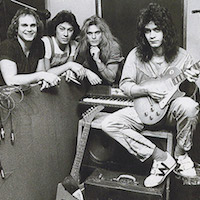 Visual Management Done the Rockstar Way
Visual management can take the most unlikely of forms. Done well, it should show you enough details at a glance so you can decide whether to look further into the situation.
Background
Major bands get riders, often part of the contract stipulating what the venue will provide the band to make them comfortable on the road. This can be sofas, champagne, beer, food cooked to a certain standard or even a curry take-away flown in from a specific restaurant in Wales. Some of the items on the riders are tiny and we'd consider them petty, but major stars have lived up to their diva reputations by blowing full-scale tantrums at not having their riders met.
No Brown M&Ms
One of the most legendary of these was the American hard rock band Van Halen. As a rock band they had a reputation to uphold; raucous, fun-loving, tolerating no nonsense. They also through tantrums when their rider was met entirely even down to minuscule details. The most popular of these details was a requirement that they would be provided with a bowlful of M&Ms with all the brown ones removed. If they walked into their changing room and saw a brown M&M in the bowl, then tantrums ensued.
Analysis
The interesting thing for us is that the presence of brown M&Ms was a form of visual management. As mentioned by the band's lead singer, Dave Lee Roth, they used a lot of equipment in their tour and they needed to know whether the requirements for the tour, e.g. a stage that could support the weight of the equipment would be available on the night, whether the electrical supply was to specification, etc. All of this was in the band's contract with the venues. Buried amidst all these technical requirements was the brown M&M clause.
On walking into the dressing room, the band could immediately tell if the venue operators had read the details of the contract. That was visual management. If there was a brown M&M in the bowl, then there was a high probability that other more potentially dangerous omissions had been made in conforming to the contract. Those omissions could have risked the safety of the band, the crew, the audience and the venue itself. So a quick check of whether the venue's organisers had read the contract and applied it was a useful point for the band's management.
As for the rockstar tantrums in response, they were just keeping up appearances and it didn't hurt their reputation. So having the band perform the check in a rockstar style was genius.
Snopes has a great overview of the rider and implications.