Lean Cost Benefit Analysis of a Quick Improvement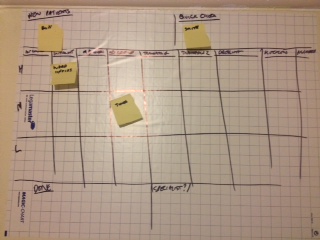 Last week, I was provided with the short opportunity to improve a service within an NHS Acute Trust. I had 5 minutes to understand the problem and then I suggested a quick improvement. I'd like to take you through how we arrived at a solution and the resulting lean cost benefit analysis of that solution.
I don't get that involved in the individual solutions anymore, instead I'm usually engaged for more strategic issues and end up mentoring others to make the changes across the whole organisation or enterprise. So it was fun to roll up my sleeves and suggest a solution that could work in a hospital. I fully expect the team to modify it to suit their specific needs and I'll be on hand to help them improve it.
So let's get to the calculations:
Lean cost benefit analysis
Analysis Investment
5 minutes x 1 health professional explaining the problem
5 minutes x 1 consultant listening to the problem
5 minutes x 1 consultant developing a solution
10 minutes x 1 consultant describing how the solution could work and what could be changed to make it more suitable
15 minutes x 1 health professional understanding the solution
1 x flipchart paper
1 x pen
Potential Savings
3.5 hours per day x 4 health professionals across a 5 day week = roughly 2,800 hours a year
The 3.5 hours is based on a reduction from 4 hours to 30 minutes for handover and prioritisation.
At roughly 1,400 working hours per year (based on 200 days per year and 7.5 hours per day), that equates to 2 FTE (full-time equivalent) posts saved per year.
So that could mean the service treating a lot more patients,  a potential cashable saving of roughly £70,000-£90,000 per year or – as is often more likely – a mix of the two
Not bad for a 15 minute session.
Practicalities
Implementation
The solution would need installing, but that's the easy part. It would require some pens and a whiteboard or similar. That's probably £200-£400 for a board and magnetic strip and counters plus £20-£50 per year for pens.
The implementation would usually rely on a critical core of the staff wanting to implement the change. In this case, by applying Lean Startup concepts, just one staff member could do it and then the others will learn about how it could affect their working lives and the impact on their patients.
What was the solution?
My suggestion was based on Lean, using a Kanban board. It relies on the principle of visual management. In this case, it's easy to see at-a-glance where the work lies. It seemed a perfect fit for the problem. Due to the small amount of time spent with the service, there is a significant risk that the solution may not work for all the health professionals involved. I'd have liked more time with more of the team to mitigate this risk.
My aim was to improve flow. There was a blockage in the handover stage of the day and that's what I wanted to eliminate. With more time, I'd have taken a more relaxed view of the entire process, involving other stakeholders, referring teams and teams that are being referred to. As it was, engaging with only one health professional, I focussed on what could be achieved quickest to remove the blockage.
The kanban board isn't the end of the solution; it's the start. I expect the therapists to find that the bulk of their work is being stuck in one or two stages or that they are not able to provide services to low priority cases. I don't actually know what they'll find, but that's what I would be looking for. After the therapy team have been running the board for a week or two, they should be able to see patterns. Then they can act on those patterns.
Perspective
So which appeals more; the lean solution itself or the numbers in the lean cost benefit analysis?
From my perspective, they're two sides of the same improvement and I teach analysts to remember both sides (and some others) when engaging with teams and their stakeholders.